Developing an orchard from a green field is an exciting project, a big investment and an awesome opportunity for you to ensure your trees get the best start to life and have a fruitful future. Avoworks can help you from planning to planting – assessing site choice, planning your layout, financial modelling, site preparation, planting, protection, irrigation, and advice for the care of your young trees.
How We Do It
Soil prep is critical, so before planting it is important to test the soil and analyse this to determine what corrections you need to make – and this needs to be done well in advance of your intended planting timing.
Avoworks can help you right from selecting a suitable site and recommending what soil corrections, drainage and shelter considerations need to be made as well as planning your irrigation and actual planting layout. We use GPS mapping to provide you with a detailed plan of all elements of your orchard.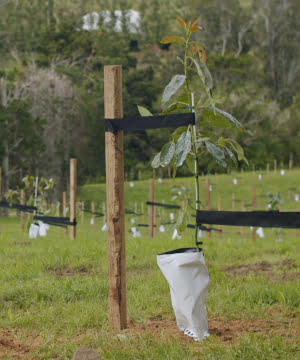 Woodland Orchards – Katikati, 2018-19
A rough scrub-filled gully, that was doing nothing more than growing weeds, was transformed into 2ha of well-contoured avocado production with 625 trees.
Read more about this orchard development